Customer Journeys
Customer journeys show the path or steps a customer takes to complete a particular task, such as purchase a product or download a whitepaper. A customer often interacts with several channels (Website, Mobile device, in-store representative) to accomplish a task. Kevin Nichols has written a detailed, step-by-step guide on how to build a customer journey and map content to it. You can download the customer journey content mapping whitepaper on AvenueCX's website, which is free of charge.
Customer journeys (or cross-channel journeys) are the key component for defining an omnichannel content strategy. A high-level, cross-channel journey might look like this:
For Business to Business: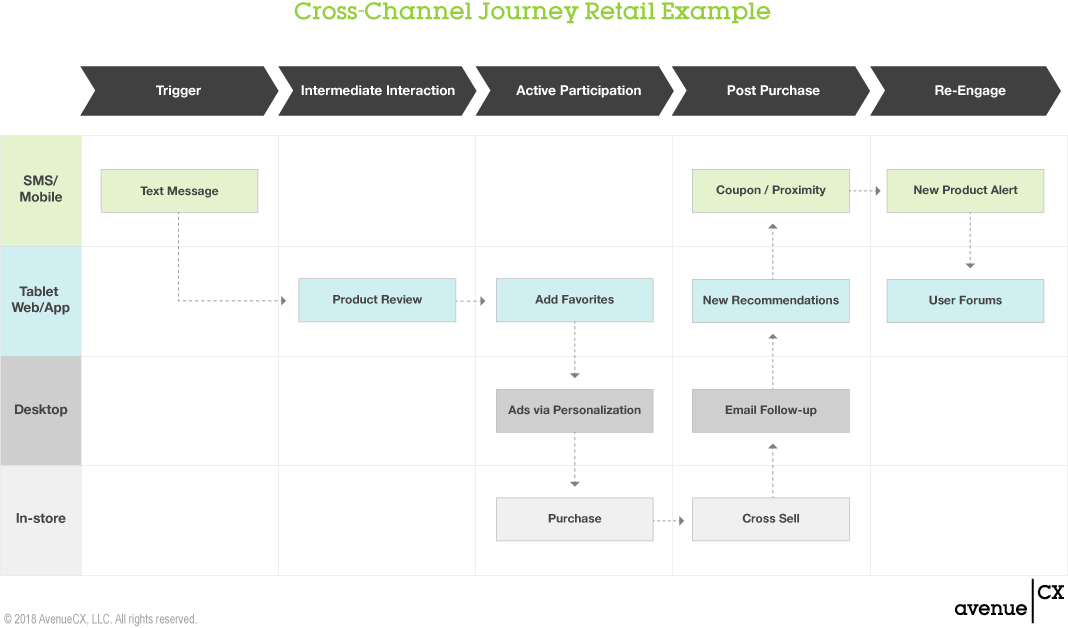 For Business to Consumer: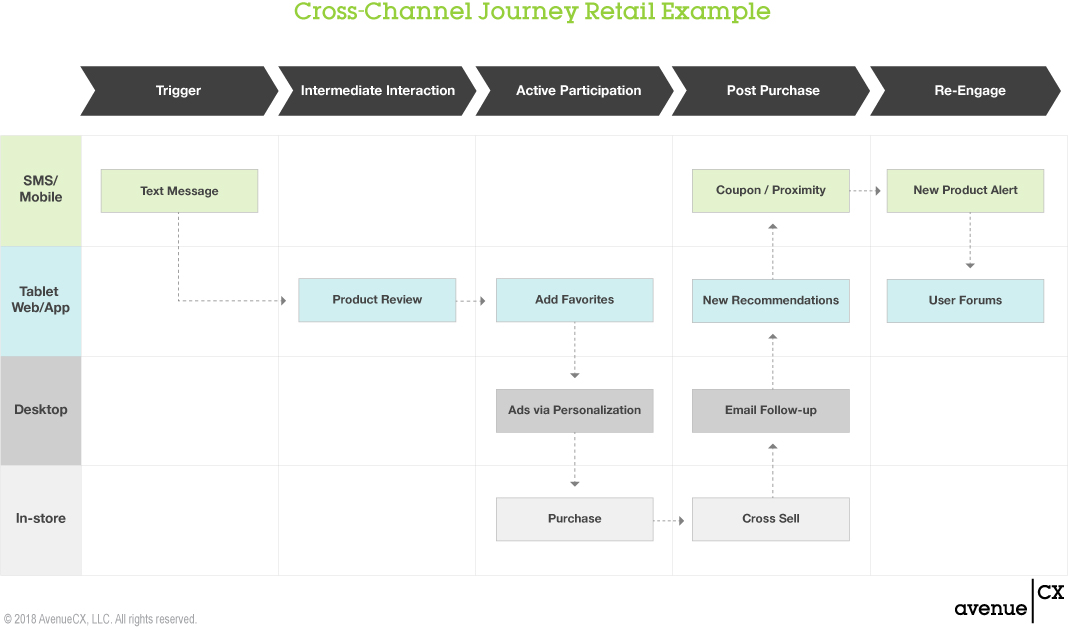 Done well, a consumer journey:
Starts with a group of tasks required for a consumer to accomplish certain goals (e.g., purchase a product, locate a store, get support for a purchased product).
Creates a series of steps within each task that a consumer will go through, often-times through several channels.
Informs which content is necessary at which step in each task to empower the consumer to go to the next step.
Remember that a consumer journey may take several different paths, going through several channels and may not always be linear.
Benefits of a Customer Journey
For omnichannel content strategy, well-designed customer journeys provide the mechanism to create successful content experience. A well-designed customer journey:
Puts a consumer at the center of the experience and creates a content experience around consumer needs and perceptions. I.e., consumer-centric content!
Provides the structure to help understand customer interaction within the omnichannel content experience.
Can be used not only for the content strategy, but also for user experience definition, personalization needs and channel prioritization.
Interested in a workshop on customer journeys? Fill out this form at AvenueCX.com.
Photo: Soldiers and their girls window shopping in the evening. Baltimore, MD. April, 1943.